Photographing since 1965, Ron Caplain began with black and white landscapes, then turned to street photography, capturing images of people who are not aware of his presence.
A member of the Copley Society, Caplain has received two distinction awards from the Royal Photographic Society of England. He has exhibited in New York City, Boston and locally in the Southern New England area.
His photographs are in the collections of the Diaspora Museum, the Rhode Island School of Design Museum, and the Biblioteque Nationale in Paris.
See more at http://www.ron-caplain-photography.com/
He began using a darkroom to develop his work, but in the last five years he has abandoned film for digital images. Although the pictures look like they are digitally manipulated or corrected, they are not. They are all essentially unmodified photographs, except for a mild tweaking of contrast and color in the computer program Photoshop.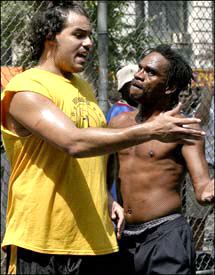 His work includes a series of photographs of the gay parades in New York and Boston. He has photographed in Vietnam, Peru, and throughout Europe.
New York City has been a fount of images. Caplain has photographed a retirement community, a park south of Canal Street, a basketball court on West 4th Street and Sixth Avenue, tourists in Times Square and Rockefeller Center, buildings and graffiti in Harlem, and the local commuters at 34th Street and Sixth Avenue.
In Caplain's published book, Illusions, the images taken through store windows use and play off visual ambiguities of transparency.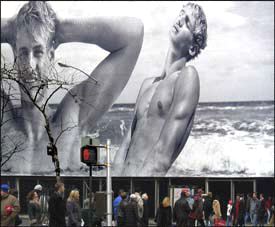 A railroad buff, he takes the train into New York City for the day, wandering the streets photographing places and people that reflect the pulse and beat of the city.